How To Stage Your Home Guide
10 Staging Tips to Help Sell Your Home For Top Dollar!!
Getting your home ready to sell can feel overwhelming. Maybe you aren't an interior designer or are not even very good at cleaning/organizing. That is ok! We are taking the guesswork out of if with this simple home staging guide. We will tell you the most important steps to focus on, as well as what attracts buyers and what turns buyers off. Whether you have a large staging budget, or no budget at all, you will find helpful tips in this guide on staging your home to sell so that you can appeal to the most buyers, and sell your home for top dollar.
1) Focus On Key Areas
Paying special attention to the largest, most significant areas of the home can have a strong impact on your buyer's interest — and save you a lot of time, money, and floor plan stress. Instead of trying to dramatically alter the look of your entire home, your pre-sell staging efforts should be focused mainly on the living room, kitchen, and master bedroom/ bathroom areas. These are the rooms that will get buyers' attention, draw guests in, and make the strongest impact during a walkthrough — no need to waste funds on sprucing up guest rooms and closet spaces!
Think of these rooms as the heartbeat of your home; give them the most love and care, and the entire place will flow. Need some easy tips on what to modify first? Start by rearranging or removing excess furniture to make the space look larger and more inviting. Choose a floor plan for your furniture that is open and accessible. A little will go a long way in your living room: add some simple throw pillows to the couch, and don't focus so much on winding hallways and side areas. Remember: your potential buyers will envision themselves in your staged home the second they enter the front door — so focus on spaces that families do the most living in! Place freshly-cut flowers on the dining table, and add a healthy, live or artificial plant to the coffee table to brighten up the space. A little greenery can go a long way in making your space feel alive. When it comes to the kitchen, less is more. Remove small appliances from countertops to give the impression that there is more than enough counter space. Also remove cereal boxes or baskets of clutter from on top of your refrigerator. When it comes to your master bedroom, potential buyers want to see a retreat, not a laundry dropping ground. Clear away clutter and consider purchasing an inexpensive bedspread and matching pillows. Need some ideas for the bathrooms? Consider purchasing matching towels, a new shower curtain, — and remember to clear clutter from the countertops!
2) Depersonalize the Space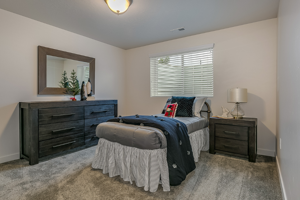 While you might think a little personal charm will go a long way with buyers, you might want to move Grandma's precious antique doll collection to the storage unit. While family may love your home's little quirks, the best tactic for securing buyers on the sale is to allow them to envision themselves living in your home. This means that, as cute as they are, your family's charming decor may have to take a vacation, as they might be a hinderance to prospective buyers trying hard to see the home as theirs. Take down family portraits, refrigerator magnets, personal artwork, or any other items that make the potential buyer picture you in the space instead of themselves. Focus on open spaces that are warm and inviting, and that act as a blank canvas for your clients. A depersonalized space will bring a neutral calm to your space, and give the new family the opportunity to see what their future might be.
3) Declutter Your House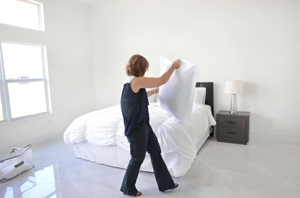 You want your house to seem as large and open as possible. Rooms with lots of light and space act as both a great canvas for the future buyer to add their own interior design touches, as well as an added illusion of size to your space. Pack up any items that you do not need right now and store them away for your move. Unnecessary items (such as off-season clothing, extra sets of dishes, books stacked to the top of the bookshelves, or extra decor such as framed photos and diplomas) can be boxed up. This will make your space look larger; drawing attention to your home's features rather than to your stuff. Once you've got all the extras packed up, be sure to remember to store those boxes safely outside the home, whether in the garage, basement or storage unit. Nothing turns off a potential buyer like stacks of boxes in the living room! Having trouble figuring out a place to store unwanted items? Consider a temporary storage unit solution during the time you are showing your house.
4) Deep Clean
Having a clean house is one of the most important things a seller can do to help facilitate the sale of their home. Schedule time for a deep clean of your space, paying special 10 Tips to Staging Your Home to Sell attention to bathrooms and kitchen spaces. Make sure you do a full clean of appliances, such as bathroom fixtures, stovetops, sinks, and the often forgotten fridge. Wipe down walls and baseboards, clean interior and exterior windows, and give everything —absolutely everything! — a good dusting. A clean house can go a long way towards making your home desirable to prospective buyers, who want to see your home at its best. Make sure to vacuum the floors of your home before your showing, paying special attention to high-traffic areas such as entryways, kitchens, and dining room areas. If you're not a perfect cleaner yourself, this may be a great time to consider hiring a professional team for your space who can give your home an industrial shine. A clean house is definitely the most important part of staging your home, and a professional clean can be a great investment if you want high offers for your home. Want to really make your home look sparkly clean for your sale? Go the extra mile, and consider having your carpets professionally cleaned and making sure any hardwood floors are buffed to a shine. Just like a car detail, this will add that "new" and "fresh" shine to your home. If you have the money to spare, this addition can be one that makes a huge impact: and may even put you a step ahead of the competition.
5) Patch and Repair
When we live in a place ourselves, we can sometimes grow so used to slight home malfunctions that we forget what it is like to experience it with fresh eyes. Remember, your buyers will be coming into your home with those discerning fresh eyes; make sure they're seeing the best product possible! Before scheduling your home tours, you'll want to take the time to do a full assessment on your home, and take stock of what minor and major repairs need to be made. Now is an excellent time to invest in your sale's future, and fix any small problems that have plagued your home in the past: that leaky faucet, broken outlet cover, smoke detector alarm, chipped paint in the hallway, fraying carpet in the entryway, and any accumulated scuffs on the walls or wallpaper. Pay attention to things like loose doorknobs or squeaky hinges, stuck window sills, or visible electric cables. Additionally, be sure to take the time to patch and repaint holes in the walls: even those pesky small ones caused by nails and hanging framework! Are your walls feeling a little bit drab? Have no fear — it's an easy fix! Now is also a great time to consider a fresh coat of paint or a new accent wall using stylish wallpaper. Fresh, clean walls go a long way in making your home look well maintained, and will set an excellent tone for prospective buyers, who want to see their future home in its best light. If you have a lot of repairs to fix and not a lot of time and money to spend, focusing on holes in the walls and appliance repairs should be your first priority, as it will make the greatest impact on your potential buyers.
6) Go For Neutral and Minimal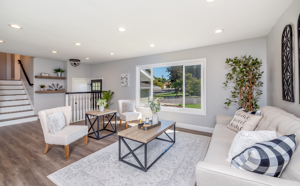 Like we said before (and we can't say it enough!): as gorgeous and personality-filled we know your home is, now is the time to take that personality into storage, and make your home as neutral and depersonalized as possible. As backwards as it sounds to create a home with less life, a more natural tone to your home will actually attract more buyers, who will be able to see your home in its fullest potential, not in its finished form. Remember, you want the hopeful buyer to view their own furniture, décor, and style in your home, which is highly difficult to do if the walls are painted neon green or if previous decorations are polarizing or controversial. Try your best to pack most décor away, keeping out just a few key pieces: a vase of flowers, modern coffee table book, or sensible paperweight. With neutral style and warm, airy spaces, your guests will once again be able to apply that amazing "blank canvas" feeling to your space: putting themselves into your home as soon as they walk into the door. However, we're not suggesting you bring in a whole damage control crew! While décor should be very minimal for the maximum sales effect, some key pieces are smart to keep in your home so that the space still feels warm and inviting. Keep an accent pillow and a throw blanket, or a decorative book or 10 Tips to Staging Your Home to Sell two for the coffee table. If you're feeling uncertain as to whether or not your choices are too much or too bare, consider asking for the help from your home sales agent or interior designer pal.
7) Light is Your Friend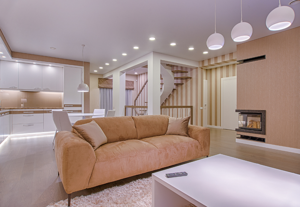 Think about every space you see in those gorgeous interior design catalogs, or with millions of likes on Instagram. What do they all have in common? They're dripping with light! With this in mind, you'll want to ensure your spaces have as much light as possible — both soft, natural light from the sun, as well as artificial light in dark or unused spaces. Dark spaces can be seen as sad, small, and alienating to a potential buyer — especially those who are seeking a home upgrade. Especially with the COVID-19 pandemic, homeowners are spending more time at home than ever before. This means ensuring that it is a happy, positive, and comforting space is of paramount importance — especially now — and part of this means a home that is warm, open, and well-lit to the eye. This means that you should toss the blackout curtains or permanently locked shutters, replace any dull or burned out bulbs, and open all other shades or window coverings. If you have an area of your home that is particularly dark, such as a hallway or tucked-away corner, consider purchasing a floor lamp or accent light to accentuate the space. A lot of light can make a home seem cheery and inviting; exactly what you want a potential buyer to feel. Here's another interesting tip: Make sure to turn on every light in your home before your house is shown. While it may not particularly please your carbon footprint, the sacrifice can make a strong impression on potential buyers, who won't have to fumble with light switches while exploring your home.
8) Think About First Impressions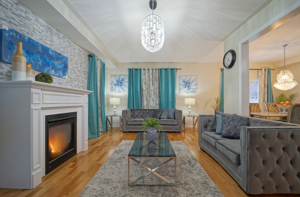 Speaking of the strong impressions we mentioned above: take special notice of the exterior of your home: particularly the view coming into the drive and walking up to the home for the very first time. Many buyers skip this step, favoring the interior of the home, when the exterior will in fact set the tone for the entire showing. Porches or doorways with peeling paint or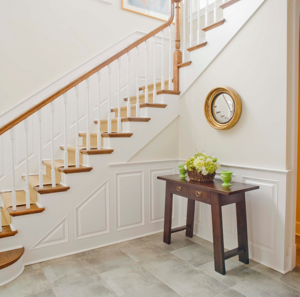 broken fixtures can immediately tell buyers they're in for a "fixer upper", even before they open the door to your home. If you apply the same level of TLC to the exterior of your house as you do to the interior (patching holes, adding a new coat of paint, repairing broken steps and floorboards, clearing the area of cobwebs), it can have a tremendously positive effect on the buyer's overall impression of your home. As it can on the inside of your home, a new coat of paint can make a world of difference, especially on a worn front door or gate. Feeling stuck? Think about what a potential buyer will see when they first pull up to your property. You don't want it to be your kids' bikes laying in the yard or the dead potted plants from last summer. Yikes! Keep your yard mowed, your porch clear of debris, leaves, and dirt. An extra tip to consider for all you sellers in colder climates: if you're showing your home in the winter time, make sure your driveway, porch, and parking space is shoveled free of snow. You'll want to ensure your guests are seeing your home on its very best day — and not have to imagine the cost of future cleanup! Need an easy tip to spruce up any outdoor space? Consider a wreath, flower pot, or potted topiary to place outside of your front door. It will elevate the space, add a cozy feeling to your home, and, if showing during the winter time, will entice buyers with that cozy "holiday season" feeling.
9) Remove Evidence of Pets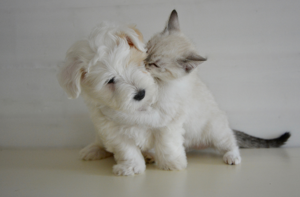 Even though you love your pets, as unbelievable as it might be, your next potential buyer may not. Some clients might have pet allergies, fears, or just general distaste — and evidence of our furry friends can potentially put a bad taste in their mouth for reasons entirely unrelated to the structure of your home. Removing dog dishes, chew toys, treats, and cat litter boxes or scratch posts is a good idea when showing your house. Make sure to pay special attention to smaller items like dog brushes and stray cat toys. Not sure where to put the accessories? You can use a laundry basket to collect these and other items to put in your car trunk just before you leave the house for a showing, to ensure they're back home and ready for Fido as soon as possible. If you're already deep cleaning your home, also be sure to pay special attention to pet hair that may be lingering on furniture or carpets. Remember: you want prospective buyers to fully envision themselves in your home in the future — with or without their own pet — living the life they see on their personal vision boards. Try to do everything you can to ensure their dream isn't tampered with — even by dog bowls!
10) Watch the Scents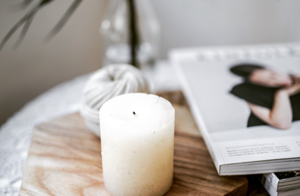 While you may love your potpourri collection, your potential buyers might be seeking something a bit gentler on the olfactory senses. Instead of using incense, floral perfume, Febreze, or another cleaning agent in your home, try simply opening some windows earlier in the day to help your house air out. If you do feel the need to add a scent to your home for that added homey feel, focus on a scent that is neutral, warm, inviting, and unobtrusive. A warm and cozy vanilla scent, or a bright and clean mint, can add a nice tone to your space. Place it in an open, central area such as the dining room or kitchen, with a window open where the smoke can escape. Steer clear of sharp scents like cinnamon, clove, or patchouli, which might overpower the space. You want your buyers to feel comfortable and calm in your space; not wrinkle their noses